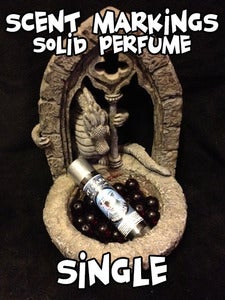 $

5.00
Now shipping to WORLDWIDE!
Finally, a way to keep smelling Con*Tact fresh all day long. Continue rocking the great scent of your favorite Con*Tact soap with our new solid perfume.
Packed in a discreet, portable plastic chapstick sized tube, it's ready to apply to pressure points like your wrists, neck, and shoulders. Solid perfume makes a wonderful gift for men and women alike!
Perfect size for pockets or your purse, our Scent Markings are a great way to keep smelling awesome long after your shower. For added complexity, try combining different scent markings and soaps together for a truly unusual and individual scent that's all yours!
Suggestions:
Aeronaut + Wild Coyote
Hematite Dragon + Amethyst Dragon
Werewolf + Aeronaut
P.L.U.R. + Yuzu
Smiley Fox + Blackberry
Green Tea + Lime
Stormy Night + Hematite Dragon
Wasteland + Absinthe
Scent markings are VEGAN!
Ingredients : Candelilia Wax (Euphorbia antisyphilitica), Avacado Oil (Persea americana), Coconut Oil (Cocos Nucifera oil), Shea Butter (Butyrospermum Parkii), Scent oil, bodysafe mica (for color).
Note: Scent Markings do NOT have caffeine in them, and cannot be caffeinated.
Read a little bit more about Scent Markings, including what people are saying about them here on our forum.